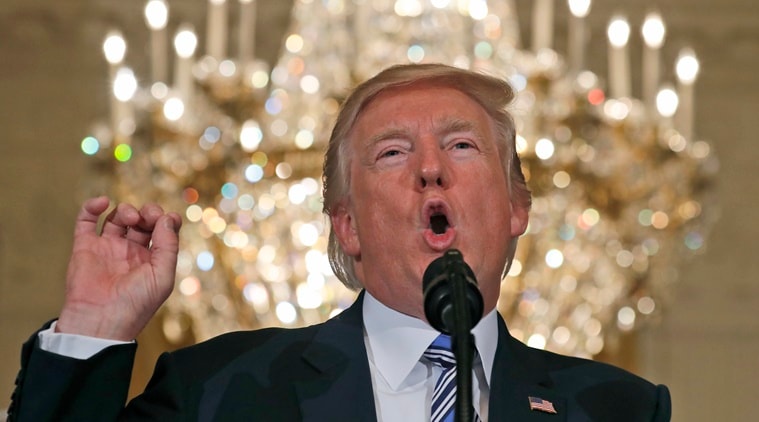 US President Donald Trump (AP Photo/Alex Brandon)
On July 20, Donald Trump marks six months as the US President. According to an ABC News/Washington Post poll released on July 16, only 36 per cent approve of Trump's performance as President — a historical low at this point in a new President's ratings. His approval rating had declined from 42 per cent on April 20, closer to the 100-day mark of his administration. He, his family and select members of administration have a mushrooming scandal and investigation about collusion with Russia prior to the elections last year. What about his effectiveness as president though — in achieving things he set out to achieve?
Sure, he has been able to use his executive powers to change the American policy on climate, immigration and other issues. However, beyond its success at getting a Supreme Court Chief Justice (Neil Gorsuch) of their choice and rolling back many Obama-administration regulations, the Republican Party under Trump cannot boast of many achievements. And this is during the first six months — a historically fecund period for Presidents to get big legislations passed.
Donald Trump administration's policies
"There aren't many presidents who want to go into the first summer without accomplishing anything," said Julian Zelizer, a presidential historian at Princeton University, told BuzzFeed. "It is a sign of weakness — both to the public and just as important to members of Congress," he said. A highly unpragmatic but rallying campaign promise about building a border wall between US and Mexico, got dropped almost immediately after Trump's initial hems and haws. But the recent failure of the health care reform, with its fate all but sealed, is the particularly humiliating defeat of his administration in which Trump not only lost the fight, but also the control of his own agenda. The Republicans ignored his campaign pledges to leave aspects like pre-existing condition protections and Medicaid untouched, and put forward a conservative health care plan, knowing that he'd cheerily sign whatever is put in front of him.
Republicans Senators are working hard to get their failed ObamaCare replacement approved. I will be at my desk, pen in hand!

— Donald J. Trump (@realDonaldTrump) July 14, 2017
Healthcare policy was the legislative win his administration needed the most before the US Congress's planned break in August. On July 18, the latest effort of Trump administration to repeal Obamacare failed to get enough votes despite Republicans controlling both legislative chambers. Trump wasn't able to, or did not bother to, bridge the internal divisions within the party, wherein some rebel GOPers refused to support the flawed bill authored by their own fold.
His disengagement from and perceived lack of interest in the grind of policy matters has been increasingly apparent. He still primarily cherishes media attention (no matter how much he rails and rants against it) and photo-ops that come with the highest office and keeps away from the tedious, cerebral world of policy and legislations. He tweeted about healthcare once over the weekend and then utilised his account for excited tweets about the US Women's Golf Open tournament. He also made a busy appearance on Monday in the 'Made in America' showcase, during which he beamingly got into a firetruck and swung a baseball bat with a cowboy hat on, for the waiting cameras.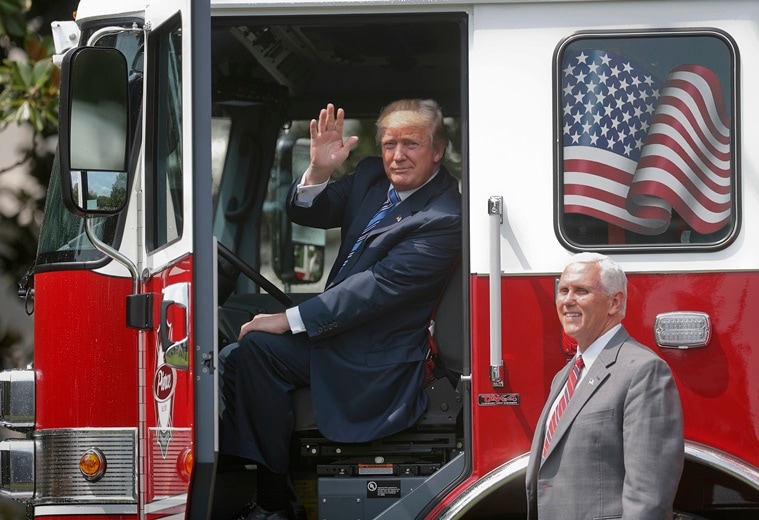 President Donald Trump waves from the cabin of a firetruck during a "Made in America," product showcase featuring items created in each of the U.S. 50 states, Monday, July 17, 2017, on the South Lawn of the White House in Washington. (AP Photo/Pablo Martinez Monsivais)

President Donald Trump tries on a Stetson hat, during a "Made in America," product showcase. (AP Photo/Alex Brandon)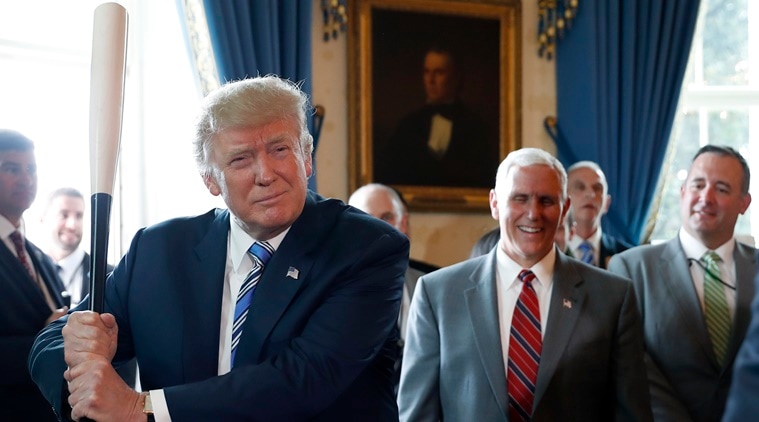 President Donald Trump prepares to swing a Marucci bat. (AP Photo/Alex Brandon)
Mixed messages to the world
Foreign policy expert Richard Haass, whom Trump last year said he respected, recently dubbed Trump's approach to foreign policy, an "adhocracy," characterised by inexperienced members (including the President and the Secretary of State), an incoherent structure and lack of a disciplined process. The result of that has been a casual reversal of US positions in multiple realms.
Trump's 'America First' policy to prioritise American security and economic interests, without regard for the tradition, was never designed to win global popularity. Among his most unpopular actions in Europe were his chief foreign policy achievement of pulling the US out of the Paris climate accord and his public rebukes to the NATO allies over failing to sufficiently fund their own militaries. American soft power received a setback in a short time under this hard power approach of Trump. A recent report on soft power showed that the US had slipped from first position last year, down to third position this year, behind France and the UK. "Trump's 'America First' doctrine has played poorly abroad, alienating allies, and damaging links with the rest of the world," the authors wrote.
But this isn't just about unpopularity in Europe. During Trump's May trip to Saudi Arabia, his much publicised agenda had been to unite the Arab world against Islamic terrorism and Iran. Soon after that, Arab countries, led by Saudi, cut off supplies to Qatar over a diplomatic dispute. Not only is Qatar an American military base, but the situation also jeopardised US's Anti-ISIS efforts in the region. US Secretary of State Rex Tillerson tried to resolve the mini-crisis by pressuring Saudi Arabia and the UAE into lifting their blockade against Qatar, only to have Trump tweet out the following:
During my recent trip to the Middle East I stated that there can no longer be funding of Radical Ideology. Leaders pointed to Qatar – look!

— Donald J. Trump (@realDonaldTrump) June 6, 2017
So good to see the Saudi Arabia visit with the King and 50 countries already paying off. They said they would take a hard line on funding…

— Donald J. Trump (@realDonaldTrump) June 6, 2017
…extremism, and all reference was pointing to Qatar. Perhaps this will be the beginning of the end to the horror of terrorism!

— Donald J. Trump (@realDonaldTrump) June 6, 2017
The move undercut Tillerson on the world stage and shocked the country that saw itself as a key US ally. "There is obviously no coordination with his own secretary of state and Trump's meddling has made the conflict a lot more difficult to resolve," David Ottaway, a Gulf scholar at the Wilson Center, told BuzzFeed news.
"Weak"
Is Trump an effective spokesman for his agenda? An analysis conducted by New York Times on July 19 suggests otherwise. "What if Trump cheered the Republican health reform as doggedly as he scorned 'Crooked Hillary'? What if he devoted as much effort to defining the stakes of tax reform as he spent branding his antagonists in the news media?" wrote Emily Badger and Kevin Quealy.
Analysis of rhetoric shows the weak adjectives and poor frequency of Trump tweets when it comes to anything actually on his administration's agenda. This is in stark contrast to the way he skillfully maneuvered essentialist rhetoric and tweets to outsmart and beat his naysayers and opponents with incessant tweet barges colored with catchy concoctions like "Lyin' Ted", "Crooked Hillary", "disaster" Obamacare and the "Fake News". Contrast this with the fact that in the past two years, he has tweeted about "tax reform" — the GOP's next major goal — only three times. "Big TAX REFORM AND TAX REDUCTION will be announced next Wednesday," he tweeted on April 22. When the White House released the one-page threadbare outline on the said date, he did not have any further to tweet on that subject.
Given that the fate of Republican Heathcare reform is now condemned to near impossibility by most accounts, Tax Reform — another ambitious bill of the Trump administration — could not hope for an easy ordeal.
The premise of Trump's value proposition to many of his voters was that he would stay unencumbered by the tiresome protocol and get things done. His strength was perceived in his irreverence for the "weakening" norms and his knowledge of the elusive 'Art of the Deal'. But things seem to have unravelled and entangled a bit more than they have been "done". For all of Trump's rhetoric, six months of his administration have gone a long way to show the gaping holes in his capabilities for holding the most powerful office. Donald Trump, for all his bravado and big words, shows himself to be a historically ineffective American president.
For all the latest World News, download Indian Express App