The Trump administration has issued new guidance that would allow states to impose work requirements on low-income healthcare recipients.
Able-bodied recipients of the Medicaid health programme for the poor would be required to work, volunteer or prepare for a job through school or training.
Critics argue that the move is aimed at cutting the number of people receiving government-funded Medicaid.
The administration contends the policy is to promote "community engagement".
"This is about helping those individuals rise out of poverty," said Seema Verma, administrator for the Centers for Medicare and Medicaid Services.
"Our fundamental goal is to make a positive and lasting difference in the health and wellness of our beneficiaries, and today's announcement is a step in that direction," she added.
She said the new policy came about at the request of 10 different states including Kentucky, Maine, New Hampshire, Arizona, Indiana and Utah.
The new guidance also suggests considering exemptions or "reasonable modifications" for certain Medicaid recipients, including:
Elderly, pregnant or disabled people
Those in areas with high unemployment or people caring for children or elderly relatives
People with substance abuse disorders such as opioid addiction.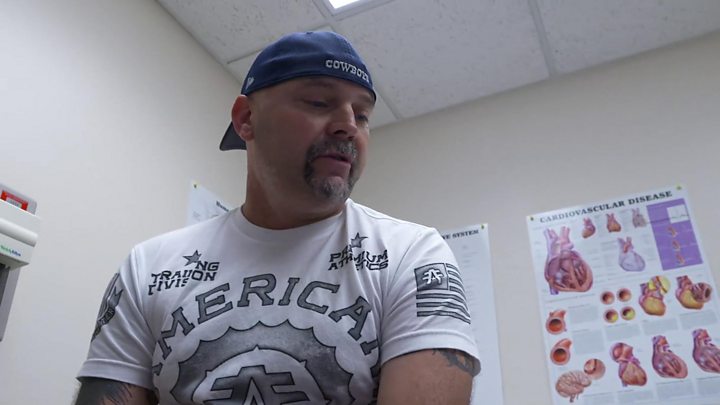 The guidance states that a review of studies showed, "strong evidence that unemployment is generally harmful to health, including higher mortality; poorer general health; poorer mental health; and higher medical consultation and hospital admission rates".
The report also states that people with a full-time job are less likely to suffer from depression.
As of October 2017, nearly 75m individuals were enrolled in Medicaid and the children's health insurance program (Chip).
A study by the nonpartisan Kaiser Family Foundation found that almost 60% of working-age Medicaid recipients are already employed full time or part time.
It is unclear how many Medicaid recipients who are actively seeking work may lose their insurance in the process if their state should choose to enact the new guidelines.
Several members of Congress were outspoken against the decision.
Under former president Barack Obama's Affordable Care Act, known as Obamacare, 31 states expanded Medicaid coverage. Republicans have tried repeatedly to overturn the health law.
The Obama Administration had previously rebuffed proposals allowing states the right to impose work requirements on Medicaid recipients, arguing it would result in fewer people having access to health insurance.
In order to implement any new policy based on the guidance, states would have to propose the changes through waivers and wait until they are granted federal approval.